Hundreds of thousands of uninhabited islands glitter like stars on the lakes and seas of Scandinavia, inviting explorers to pull up and rest a while.
Carefree days and the sound of waves
Our fragrance ØY, Norwegian for 'island', references the feeling of carefree days surrounded by the sound of waves and calling gulls, craggy rocks splashed with lichen, and nights where the moon reflects in the calm water.
This light and natural scent, which features as a richly moisturising vegan hand cream, hand wash, body wash and home fragrance, is dedicated to the joy of island living as experienced here in Scandinavia.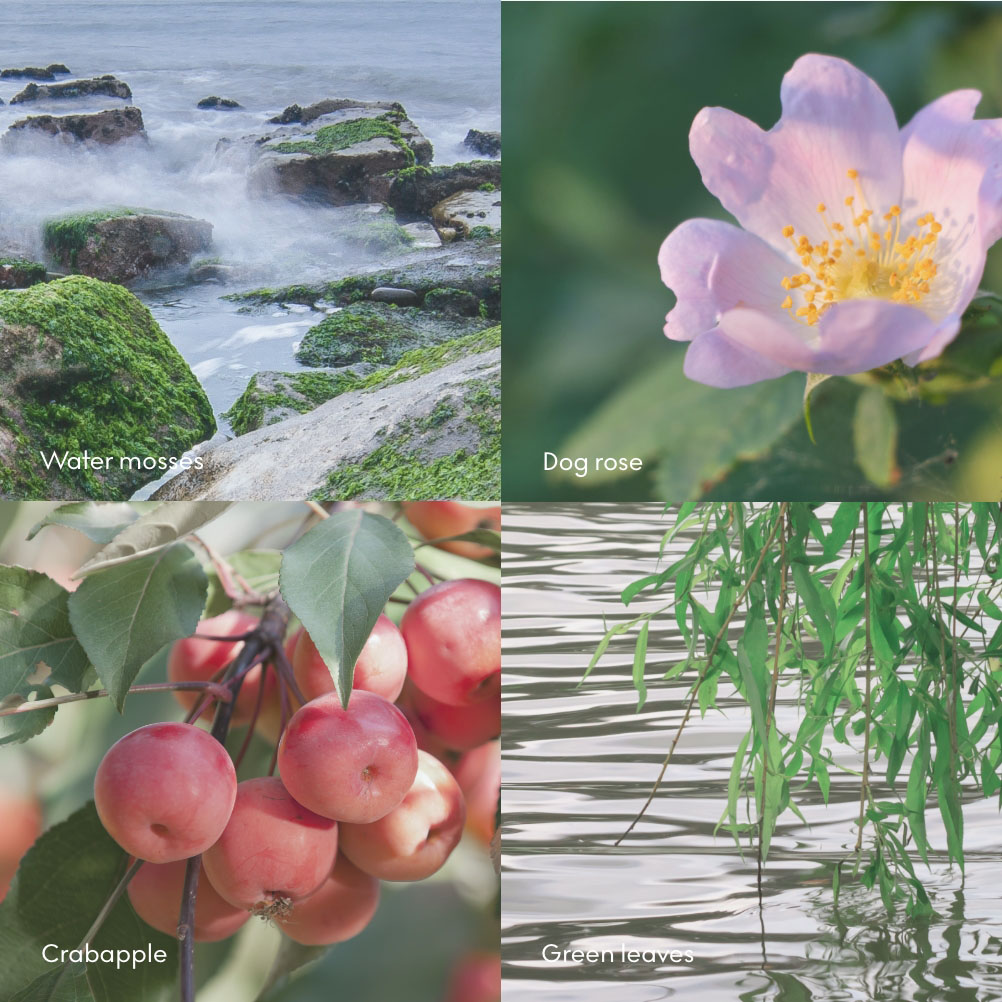 A unique fragrance impression
We combine natural essential oils with safe synthetic ingredients to create unique fragrance impressions of Scandinavia, inspired by our experiences and unique scent tours of the region. ØY is a light, fresh, natural scent with key notes of crab apple, dog rose, water moss and green leaves.
Native scents of Scandinavia
The European crab apple, or 'forest apple' by its scientific name, is native to Scandinavia. Demanding of light, these trees are mostly found at the wet edges of forests, their fruit sweet and sharp, across the mainland and the region's islands.
The dog rose is a species of wild rose frequently found growing wild along the Scandinavian shoreline. Masses of delicate blooms typically cover these huge shrubs, their pink flowers revealing a subtle, sweet smell.
Fresh, green and nature focused
Water moss is a flowerless plant mostly found just below the surface in flowing freshwater, streams and ponds as glossy yellowy-green clumps. Slippery in the hands and underfoot with an earthy, marine grass aroma, it's often seen on the small rocky islands of Sweden, where gentle streams trickle around boulders towards the sea.
The final scent note, green leaves, references the wild tangles of shrubs, bushes and gnarled trees near the water's edge and the scent of leaves on the fingers that brush them, evoking life and vitality with a lively, bright scent.
Always sustainably produced
As a certified B Corporation, it's important that our products are responsible and made with sustainable processes. Our personal care collection is vegan and cruelty-free, we prioritise certified organic ingredients and we describe the exact amounts on every label.
Packaging for our 450 ml pump bottle and 225 ml tube are made from renewable-sourced and recyclable bioplastics; the cardboard used in our boxes is sourced from managed Swedish forests, is FSC-certified and uses natural colour dyes.
Our candle wax comes from Swedish rapeseed oil that is traceable, sustainably farmed and non-GMO, and our candle glass is produced in the EU with up to 30% recycled materials. It's glass for keeps, designed for reuse long after the candle wick has burned down.
Of secret islands and quiet places
Join us in a voyage of discovery around Scandinavia's secret islands, glittering seas and quiet places, where this beautiful scent carries on the breeze.
Our ØY fragrance is available as a scented candle, scent diffuser, hand wash, body wash, hand cream and mini hand cream.