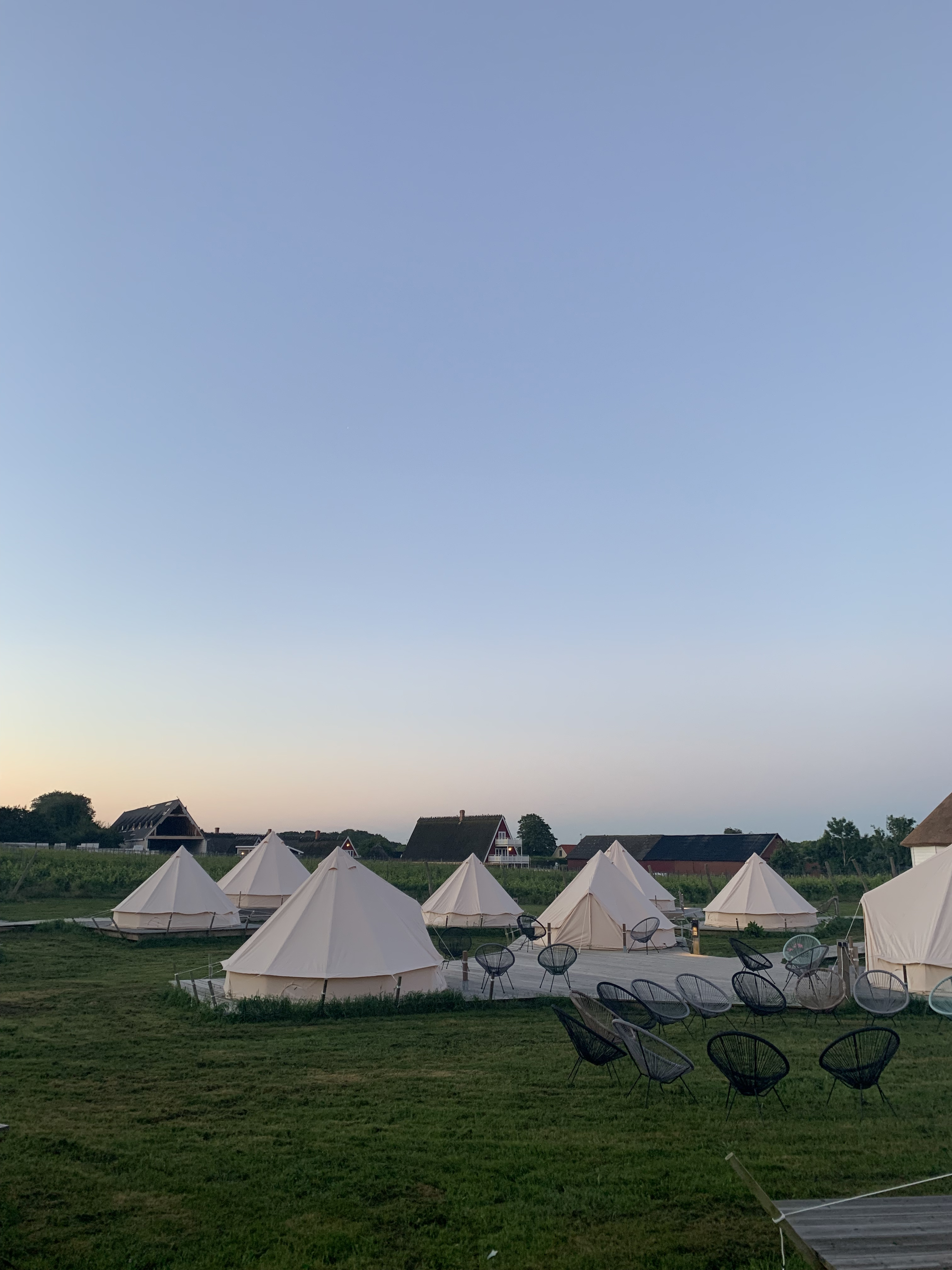 Sitting in the sunshine, hair drying in the air from an impromptu pre-lunch swim, chatting as old friends. Walking along a shaded path around boulders with a view of the sea to the right and the taste of ice cream still in my mouth. Picking through the dusty shelves of a roadside flea market, looking at colourful ceramic ashtrays and mismatched crystal glasses. Talking with colleagues about our favourite places, our hidden gems. A long balmy night when dinner went on until the stars came out and we asked them to keep the bar open for a little longer than usual.
A Scandinavian summer
We celebrated Skandinavisk's ten-year anniversary with a dinner and glamping party at Arild's Vineyard this summer, and these are just some of my favourite moments from it. I'd been working at Skandinavisk since the start of the year and felt honoured to be invited. I don't always find company events, especially team bonding events, very comfortable and was a little unsure what might be expected. But from the moment we arrived at the vineyard after a morning drive from Copenhagen, it was clear I didn't have any reason to feel shy.
Celebrating in the sunshine
The sun shone and it shone and it shone. It was as if it knew we were celebrating something special. We walked down quiet country routes past thatched cottages bursting with roses and down to the sea, where we cooled off amid the translucent jellyfish and drifting kelp. We ate salmon with dill-decorated potatoes and a heritage tomato salad so fresh, sharp and bright it made me wonder if I've really tasted tomatoes properly before. We walked the vineyard together with the owner, and heard about the miniature sheep they use to maintain the grounds, before heading to the dark and cool wine caves for a tasting session.
It's clear to me that one of the greatest things about working at Skandinavisk is the people you get to work alongside. We got to know each other even better as we sat and drank the vineyard's wine, as we swam in the sea, and as we walked along the long cliff path to our lunch spot the next day, Ransvik. The 100-year-old restaurant nestled in the Kullaberg nature reserve had a sea bath made for a sunny day like this. It was like a poem of Scandinavia had come to life.
A
deeply-held love of Scandinavia
Of course, as there always is on occasions like this, there was an obligatory boardroom planning session, a couple of hours given over to come together as a group and look at the future and what lies ahead. It turned into a celebration of milestones too, of challenges faced and overcome, of pivots and visions and ideas for the future. It capped off an inspirational couple of days in the early summer sun, when we came together around what I think must be the most critical thing when it comes to working at Skandinavisk: a deeply held shared love and admiration for Scandinavia.