It's not always easy to explain what hygge means. The Danish word has no direct translation but it is rich with meaning. It's about enjoying the little things, on your own and with others, about seeking comfort and joy, intimacy, fellowship and cosiness in the smallest everyday moments. It's a concept so central to the Scandinavian way of life that we knew it had to be a part of our scent collection. The untranslatable word has become one of our bestselling fragrances.
This warming and natural scent, which features as a scented candle and scent diffuser, is dedicated to enjoying the little details of everyday life and the pursuit of comfort and happiness here in Scandinavia.
What does hygge smell like?
HYGGE is a warming scent with key notes of black tea and mint leaves, dried apples and a dusting of baked cinnamon.
Earthy and smokey, tea in Scandinavia is mainly enjoyed black and from small, delicate ceramic cups, the hands warmed against the rounded shape. The scent is comforting and rich but has a slight bitterness to it that pairs well with its sweeter scents.
We pair this with cooling and refreshing, mint is commonly found, picked and nibbled in gardens across Scandinavia. Preferring wet soils, the leaves have a strong, unmistakable, peppery aroma.
Morning tea and cinnamon buns
To these two scents, which evoke relaxing in a quiet space, we add an ever-present ingredient in the Scandinavian kitchen, cinnamon. Particularly popular in baking, this exotic spice creates memories of family gatherings and cosy times at home.
The final scent note is dried apple. Qualitatively different from their hydrated origins, dried apples are sweet, light and gentle, with a fruity aroma that scents your home with a feeling of hygge and fellowship.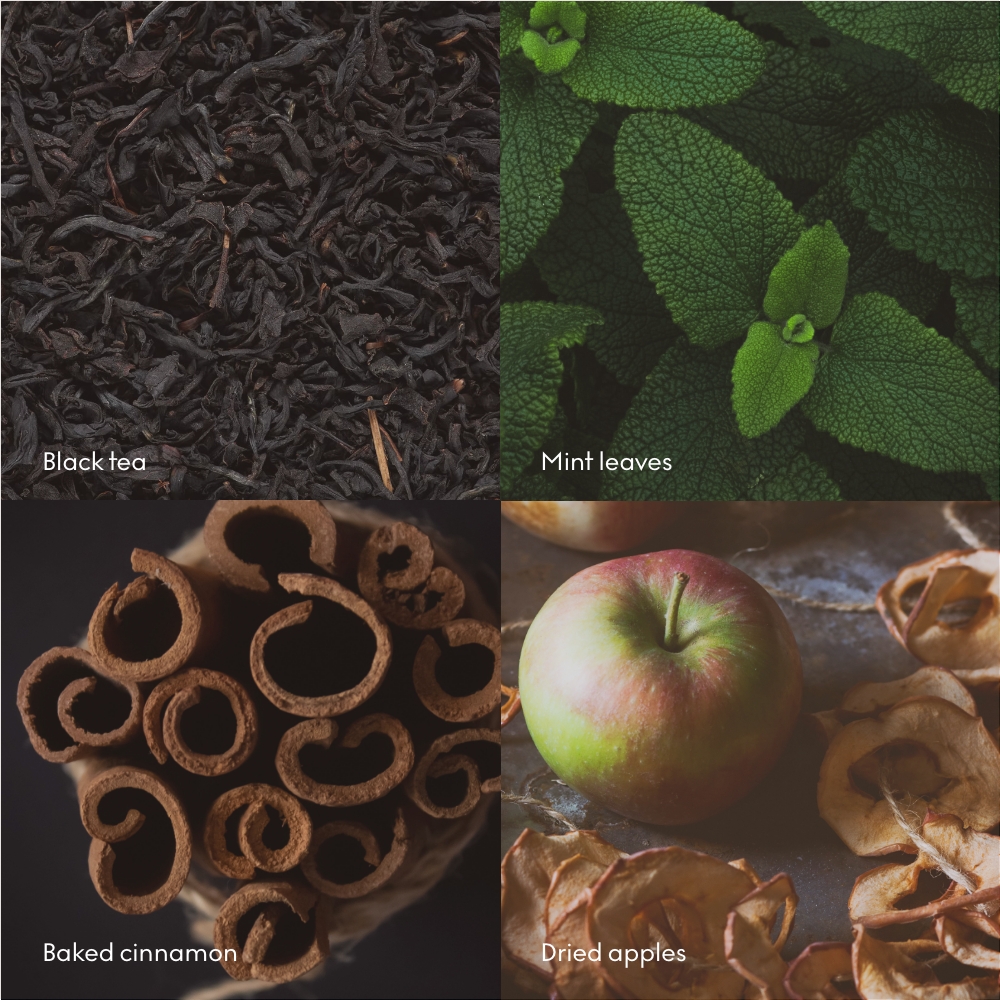 Always sustainably produced
As a certified B Corporation, it's important that our products are responsible and made with sustainable processes. Our candle wax comes from Swedish rapeseed oil that is traceable, sustainably farmed and non-GMO, and our candle glass is produced in the EU with up to 30% recycled materials. It's glass for keeps, designed for reuse long after the candle wick has burned down.
Join us in an exploration of one of Scandinavia's most significant exports, the sense of comfort and cosiness.

Experience HYGGE